In the morning of Oct. 17, 2020, Kind Pharmaceuticals LLC held a groundbreaking ceremony at a new R&D and production base dedicated to biotech development and manufacturing for clinical studies located at Yuhang Econimic and Technological Development District of Hangzhou, Zhejiang Province.
This exciting moment is the culmination of more than 5 years of painstaking development. This is another major milestone after AND017, the new drug for anemia developed by Kind, successfully entered Phase 2 clinical trials in both China and US and Kind obtained sizable Series A financing.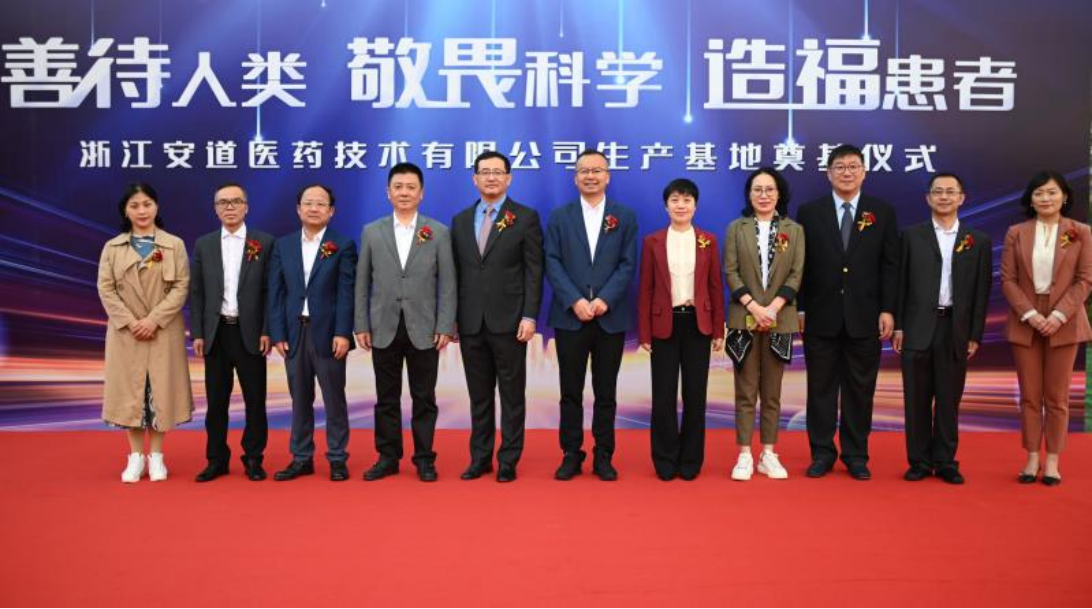 Xikai Zhao (Director of Hangzhou Science and Tehcnology Bureau), Hongdan Zhu (Member of the Standing Committee of Yuhang District, Organization Minister), Dong Liu (CEO of Kind Pharmaceuticals)

The groundbreaking ceremony was the result of a collaborative planning effort that required hard work and coordination by many partners. Xikai Zhao, the Director of Hangzhou Science and Technology Bureau, Hongdan Zhu, member of the Standing Committee of the Yuhang District and Organization Minister, relevant leaders of Yuhang Economic and Technological Development District, Xu Qian, the General Manager of the China region of Decheng Capital partner of Kind Pharmaceuticals investor, and many other leaders and guests, as well as all employees of the company shared in the celebration.
Dr. Dong Liu, the founder, chairman, and CEO of Kind Pharma, expressed his sincere gratitude to the government departments of Yuhang District of Hangzhou and all sectors of society for their support to this project. He said that this investment is strongly related to the growth and progression of the healthcare pipeline of the Company and reflects Kind Pharmaceuticals' commitment to accelerate the availability of new medicines for patients in need. Kind Pharmaceuticals will uphold the concept of "kind to humans, humble to science, and good to patients" and is confident in its future potential.
Located in the economic and technological development center of Yushang District, ground was broken on a 300,000 square foot space, and will consist of 2 buildings for manufacturing and administrative office with 110,000 square foot space for each, bringing together a cross-functional team of hundreds of employees, responsible for advancing Kind Pharmaceuticals' biotech R&D pipeline.
The facility will address the increasing demands and growth of the Company and will showcase Kind Pharmaceuticals' functional sections, including manufacturing and pilot operations, as well as administrative offices. Equipped with the most advanced digital solutions and highest technological standards, including continuous manufacturing and laboratory automation, the facility will offer a flexible-by-design infrastructure and open workspaces enabling collaboration, creativity, and innovation. The construction of the building is expected to be completed by the end of 2022 and the facility is anticipated to be fully operational by the second quarter of 2023 following validation by regulatory authorities. This facility will add to the capacities of the Company in the research, development, and manufacturing of medicines.
All the guests joining in celebrating this magnificent occasion took part in cultivating the foundation stone of the new facility t. With sincere gratitude for all who have worked so hard to bring us to this moment, Kind Pharmaceuticals is excited to commence with this great project that will serve our patients and our community for years to come.